Growing in Tandem: The RGS and EG Stoltzfus Story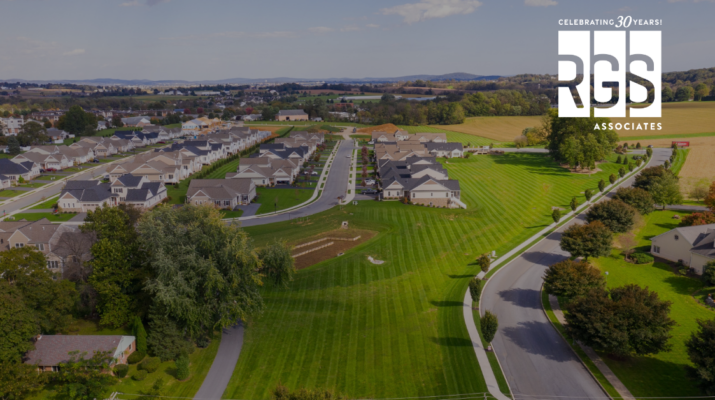 As RGS commemorates its 30th anniversary, we're celebrating the enduring relationships we've built over the years. The fruits of these long-term partnerships demonstrate a mutual commitment to delivering excellent service, innovative solutions, and creative excellence.
One such partner, EG Stoltzfus, a full-service construction company based in Lancaster, PA, has earned a reputation for quality projects across Central Pennsylvania. Specializing in both residential and commercial construction, their portfolio boasts a broad spectrum of noteworthy developments that have stood the test of time.
Celebrating Over Two Decades with EG Stoltzfus
The partnership between EG Stoltzfus and RGS began in the late 1990s and has flourished for more than 20 years.
Speaking with Doug Parkins, Director of Land Development and Acquisition at EG Stoltzfus, and Joel Snyder, Managing Principal RLA at RGS, it's easy to see why this relationship has lasted so long: mutual respect and admiration.
Noting that EG Stoltzfus has historically specialized in building custom homes and remains dedicated to excelling in the residential space, Joel said, "Their reputation for consistent, quality construction is well-known throughout the region."
In the 55+ years they've been in business, EG Stoltzfus has grown exponentially. Doug said the partnership with RGS has been a big part of their success.
"EG aims to create neighborhoods with a unique feel, focusing on community and design," Doug said. "RGS is crucial in achieving this."
The Lititz Reserve Project
Lititz Reserve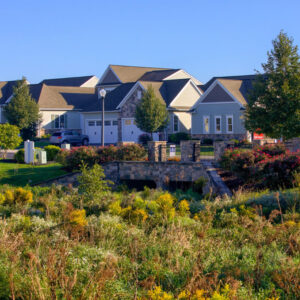 , a luxury townhouse community in Lancaster County, was designed for empty nesters and sits adjacent to Luther Acres, a senior living community. This project is emblematic of the high-quality work produced when EG Stoltzfus and RGS Associates combine efforts.
The project's landscaping, characterized by extensive common areas, small parks, and walking trails, is noteworthy for a variety of reasons, Joel said.
"From a planning perspective, the site had some interesting environmental aspects, and we aimed to capitalize on that," he said.  "We really wanted to integrate stormwater management into the design to complement some of those natural features."
Landis Farm and Warwick Crossing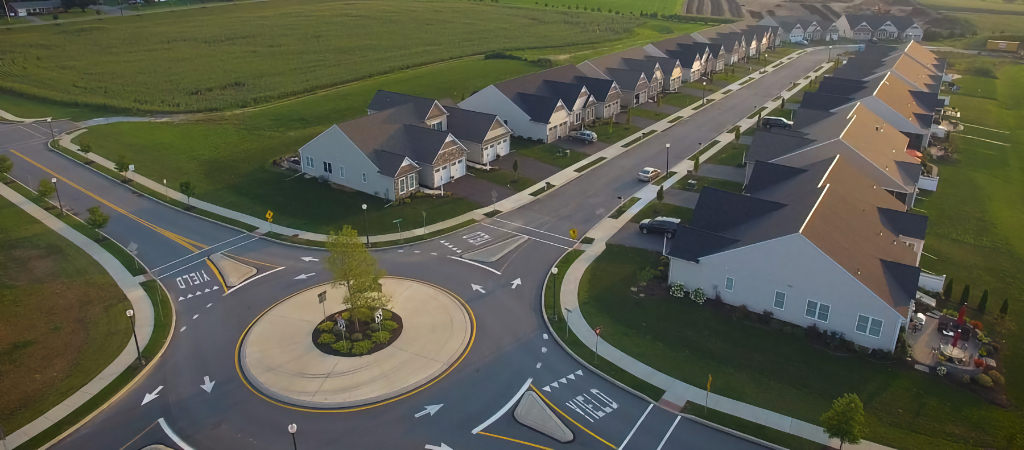 For Doug, two projects stand out as exemplifying the partnership with RGS: the neighborhood communities of Landis Farm and Warwick Crossing. He said the landscape architecture provided by RGS for these projects was particularly top notch.
"At Landis, RGS designed a roundabout that became the heartbeat of the community, along with some beautiful common areas," Doug said. "It really speaks to their expertise in incorporating stormwater management into site design."
Outside of the planning and design of the communities, RGS brings an intangible element to garnering approvals from local municipalities, Doug said.
"They are politically connected with municipal reviewers," he said. "RGS has the capability to swiftly navigate through challenges like political pushback or utility misinformation."
On the Horizon: The Exciting Eshelman Farm Project
Looking ahead, EG Stoltzfus and RGS Associates are embarking on new endeavor that will culminate in the construction of 428 housing units, from rental apartments to single-family homes. The Eshelman Farm project will sit on a 92-acre property north of Charlestown Road in Manor Township, Lancaster County.
"This is a long-term deal and could be a 10- to 12-year project," Doug said, noting RGS's significant contributions to the early stages of the project's planning. "The site went through an arduous zoning process, and RGS was there to handle the engineering side of things every step of the way. Within two weeks, they gave us a 2D rendering with our architecture in it. It was vital to the process."
A Legacy Built on Mutual Trust
Over the years, the relationship between RGS and EG Stoltzfus has grown and evolved, giving each company a better familiarity with the other and strengthening their collaboration.
"When we first began working with EG, they were a small, local home builder," Joel said. "Now, they're regional and it's been exciting to see their growth."