This is Landscape Architecture. And this is Joyce Gerhart, RLA.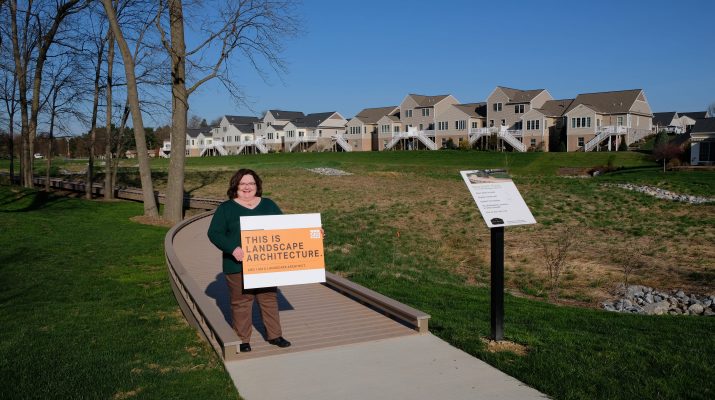 This is Landscape Architecture. And these are our Landscape Architects. In honor of World Landscape Architecture Month, we are highlighting what landscape architecture is and the different stages of development, from paper, to dirt, to the final product. Landscape architecture is not just an aesthetically pleasing and thoughtful planting design. It could be an entry sign design, stormwater drainage swales, paving design, or even a bus stop enclave. No matter what it is, or in what stage of the process, this is landscape architecture.
Joyce Gerhart, RLA, is an Associate and Client Manager with more than 35 years of experience. Her design experience includes conducting site feasibility studies, preparation of grading, layout, storm water management, utility, erosion and sedimentation control, and landscape planting design. Joyce has a passion for mentorship and staff development and fulfills that by overseeing a team of professional landscape architects and civil engineers. She is also responsible for communication and coordination with clients, municipal officials, and other agencies, including project representation at public meetings and delivery of project approvals through the municipal process.
A project of significance for Joyce is Lititz Reserve. RGS aided Lititz Reserve in navigating the land development entitlement process and developing conceptual designs for its residential neighborhood. The Lititz Reserve community consists of 224 townhomes and 9 open space parcels. A large drainage way that bisects the Lititz Reserve property was identified by the Pennsylvania Department of Environmental Protection (PA DEP) and the Susquehanna River Basin Commission (SRBC) as a Critical Aquifer Recharge Area (CARA). In collaboration with LandStudies, the drainage way became an integral part of the stormwater management strategy through an innovative bio-swale design. This design solution allowed for more developable land when compared to conventional stormwater management facilities. Another challenge the RGS team faced was a 40-ft elevation change across the site. The team worked to come up with a creative solution to minimize the number of retaining walls necessary across the property. To do so, RGS helped to identify ways to incorporate the elevation changes into the design elements. They utilized elevated land to build homes with exposed basements homes and stepped unit residences. Both solutions allowed Lititz Reserve to maximize the use of available land.
PROJECT ELEMENTS
224-unit townhouse community on 50 acres
142 townhomes are complete
82 additional townhomes coming online
9 open space parcels
Bio-swale design utilized for stormwater management
Stormwater management used for multiple projects
Maximized developable area within the development by utilizing the bio-swale design
Participated in planning with the municipality and other stakeholders for a regional roadway improvement grant
Sewer interceptor relocation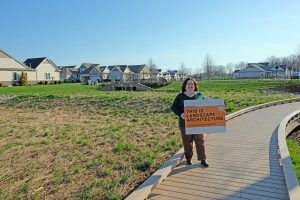 April is World Landscape Architecture Month (WLAM). Established by the American Society of Landscape Architects (ASLA), WLAM is a month-long international celebration of landscape architecture and designed public and private spaces. People and communities around the world have deep, long-standing personal connections to the spaces landscape architects create – they're just not aware of it. During WLAM, ASLA and landscape architects around the world aim to demonstrate that connection by highlighting landscape architect-designed spaces.