Celebrating 30 Years of RGS Associates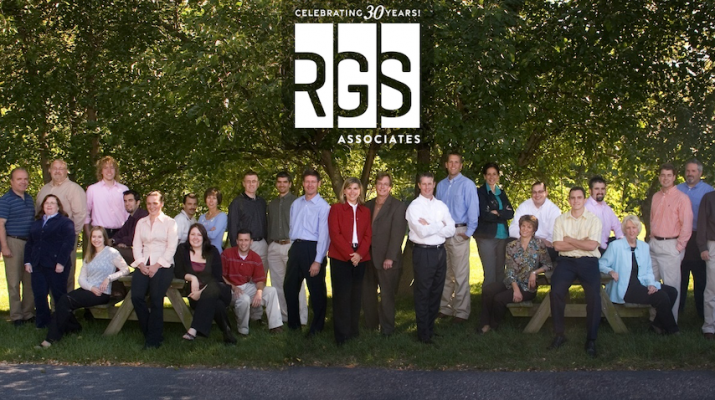 How the right team, driven by its values, has led RGS for 30 years and counting
"The key to any business's success is relationships, being fair, and doing good work for your customers." 
~ Dick Stauffer, Founder of RGS Associates
They say old habits die hard, but old principles? Well, they become ingrained in a culture when respected leaders lead from the front and surround themselves with the right team. 
Dick Stauffer founded RGS Associates in 1993. During the 12 years that he remained its owner, he cemented a foundation that the firm still rests upon today. And he did it by living his principles and bringing on partners and team members who shared those same values. 
The true story of RGS, however, begins well before the company took on its first client. The story actually begins when a young Dick Stauffer was told by his high school counselor that he wasn't college material. He enrolled in a two-year drafting program at Penn State anyway, and the rest became part of RGS history. 
As Dick puts it, "If anyone puts their mind to something, they can do it."
Dick ultimately proved his high school counselor wrong and eventually went on to graduate from Penn State with a degree in Land Planning. From there, he started a small Lancaster County land planning business that has since grown to become a leading landscape architecture and civil engineering firm in central and southeastern Pennsylvania. 
The Early Days of RGS
After a long career in land planning, Dick opened the doors to RGS at the age of 46. He started the business, in part, to allow others the opportunity to take a leadership role. This included two of RGS' current principals, Mark Hackenburg and Joel Snyder, as well as former principal, Mark Johnson.
"I knew the attributes Mark and Joel brought to RGS would be what moved the company forward," Dick said.
Over the years, Dick invested in their leadership growth and training and brought on an advisory board to support the company with strategic planning. He also invested in training courses for the design staff and the company's management, marketing, and finance teams.
"I was determined to give others the opportunity to grow because that's what I wished I had early on in my career," Dick said.  
Mark and Joel continued to invest in their team after they took ownership of the business in 2005. Today, their team regularly participates in leadership development seminars and courses. 
"Mark and I were given the opportunity to lead this business and our team early on," Joel said. "It's ingrained in the culture we've created at RGS to give that same opportunity to the current team and invest in the future of the organization."
Garden Spot Village: The Project that Started it All
RGS' first project was with Garden Spot Village, a retirement community in Lancaster County. 
"Our first project with Garden Spot was to help get them to what's now their current location," Dick said. "We looked at properties with their team and their West Earl Township property was selected. Then, the real work began."
Dick and RGS went through the zoning process with Garden Spot to turn what was once farmland into an operational residential community. 
"It was a difficult project because we literally started from scratch," he said. "There wasn't even a sewer plant available; we had to design one to get Garden Spot up and running." 
Even after 30 years, Garden Spot continues to come to RGS with its many landscape development projects – approximately 40+ projects to date, and counting.
Building Strong Relationships Grew RGS from a Startup to What it is Today
Garden Spot's success led to more work for RGS and the firm quickly grew. Within two years, it had outgrown its first office and moved to Brownstown. Within 10 years, RGS found it necessary to add to its building – three times.
"We were very successful with Garden Spot, and that positive word-of-mouth propelled the business in the early days," Dick said.
This positive reception and a subsequent referral led to RGS' second project with Woodcrest Villa and, ultimately, many others. 
"I had the right people around me at the right time," Dick said. "Relationships are the key to any business's success, and it was our relationships that grew the business."
History proved Dick right; having Mark and Joel step into the roles of principals ultimately propelled the firm from a regional startup to a legacy firm that, over the past 30 years, has shaped much of the built environment in Lancaster County and well beyond.
Just as in those early years, Mark and Joel's intention to put relationships front and center is where they attribute their success.
"The values that Dick instilled in the business 30 years ago continue to be our guiding light," Mark said. "It's been an honor to carry those values forward to our team for nearly 20 of those 30 years and watch them serve our clients with the same care and integrity." 
"Growing RGS' alongside Mark and our team has been a rewarding journey," Joel said. "The company is doing its best work yet and we're excited for the next 30 years."
Looking Ahead to the Next 30 Years
RGS has grown significantly since Dick first began the business three decades ago. With the leadership of principals Mark Hackenburg and Joel Snyder, along with the rest of the RGS leadership team, the company is now spread across four locations throughout Central and Southeastern PA, and recently joined forces with Glackin Thomas Panzak, expanding its land planning and landscape architecture services. 
Celebrating 30 Years of RGS Associates
To our team members, clients, colleagues, partners, and families: we thank you for your support over the past 30 years and look forward to your support in the many years to come.