Morton Promoted to Project Manager.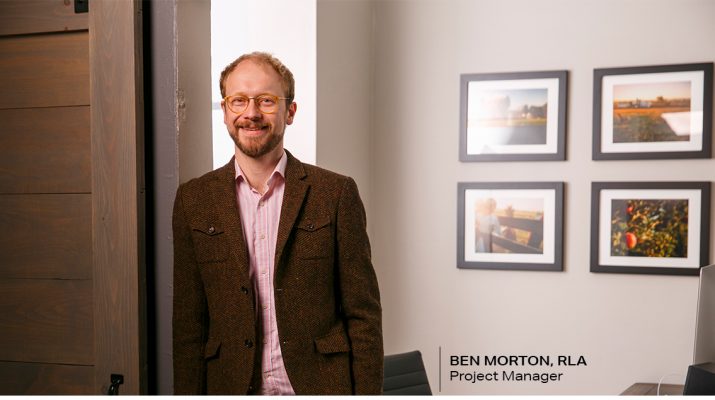 It is with great pleasure that we announce the promotion of Benjamin Morton to Project Manager.
Ben has been with RGS for five years, progressing through with initiative and dedication and showing commitment to his clients and their projects by balancing the constraints of the project with the ambitions of his client. Ben excels at using his creativity to create design solutions that integrate complex programs and sites while also creating unique and natural aesthetics. We know that he will continue to provide this same level of client-focused service and design in his new position.
As a graduate of the University of Rhode Island, with a degree in Landscape Architecture, Ben has more than nine years of landscape architectural and land development experience. Through his experiences at RGS, he has had the opportunity to work on a project that addresses a fundamental community need and uses his site design skills to integrate a complex program on an extensively developed site with the LGH Hospital ED Expansion. In working on the Culliton Park project, he got to work on a site that is truly for the people. Improving a neighborhood park for a diverse population was an opportunity to create design solutions that are invisible and make the experience of the site natural and effortless while also having a chance to select and design components that will make the park unique including play equipment and planting design.
Ben balances his professional accomplishments with a passion for gardening, a love of the ocean, and devotion to his wife and two children.
About RGS Associates: Founded in 1993, RGS specializes in the thoughtful design of senior living communities, commercial centers, urban centers, open spaces, and residential neighborhoods located throughout south central Pennsylvania. As an award-winning consulting firm of registered landscape architects and civil engineers, we provide our clients with creative site design and entitlement services beginning with initial feasibility investigations and continuing through project construction. Our talented team drives our culture, which grows from the roots of impassioned creativity, collaboration, and honest hard work.